Travelling to a Wedding? Why Not? Book a Minibus For Everyone!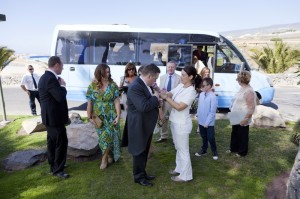 Marriage is a beautiful, timeless essence which unites two people together for the rest of their life. Every religion has its own wedding tradition and customs. Close relatives and friends pour the essence of music, dance and laughter which makes the moment memorable and unforgettable for the bride and groom.
Nowadays, people would love to have a destination wedding, they want to go far away from their hectic schedule, where they can stay calmly. A destination wedding is like a fairy tale wedding; it involves lots of planning, efforts and time management. A bride and groom have to manage each and everything from taking their guest to the desire destination, from catering to beautiful clothes and the evening party. But, one thing which concerns bride and groom is how we should pick up all our guests from airport to the desired hotel. Should we hire taxis or there is no need, they can manage themselves. What should we do? Well, the answer to your problem is very simple. All you have to do is to contact the local minibus hire company and book an attractive plus luxurious minibus for your guests.
As the minibuses are comfortable, luxurious and airy, properly ventilated and have lots of storage space. A minibus is considered as the most suitable vehicle for travelling to a wedding because it offers you the comfort at an affordable price and increases the fun of going together.
Minibuses are extensive. The seats of a minibus are designed with a soft and comfortable fabric that won't let you feel terrible bumps for the road; your work is to sit back relax and enjoy the incredible time with your dear ones. Minibuses give you full freedom to enjoy the sightseeing by listening to your favourite tracks. Minibuses are mends to create a pleasant and soothing environment.
There's a lot to get right at a wedding, and certainly, there's a lot that can go wrong, so give your guests a hassle-free voyage by hiring a minibus with Minibus Hire London.
Book your Minibus Today with London Minibus Hire.