When travelling with Minibus Can Mean Luxury?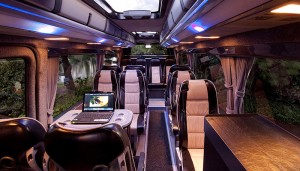 Whenever you plan for a vacation or a short whistle day trip, you always look for a safest and comfortable way of transportation. Nowadays, you get a plethora of options in transportations. You can travel by air, train, cruise, road and much more. Still, somewhere you feel discomfort. Flying is quick's, but it's costly. The train is over-cowered at peak time, and driving can be a good option, but sometimes traffic jams and parking nightmare make it stressful.
Most of the people have misconceptions that minibus is old-fashioned, they do not offer luxury and comfort. Also, minibuses are a poor's man choice.
Well, it's surprising to know that the London Minibus Hire offer an amazing fleet of minibuses that makes the ride comfortable at an affordable cost. Our minibuses are comfortable and spacious that means you can easily roam around. Our Minibuses offer all the necessities which are required for a journey.
Also, minibuses are mainly designed for a long trip journey. They offer all the comfort and convenience that are essential to make the trip memorable and unforgettable. In minibuses, you sat calmly and spent a good time with your friends and family.
With London Minibus Hire, you don't have to worry about the navigations; all our minibuses are installed with the Geo-satellite navigation that means our drives would always opt for the shortest or quickest path to reach the destination.
Travel in Luxury with London Minibus Hire
The luxury starts when the time you step in our minibuses. Our minibuses have enough space to keep the luggage and our well-trained drivers would happy to assist you in getting a right spot.
With us, you don't have to squash alongside with your bags, like you are travelling in an overcrowded train. We also offer cabin just above the seats to keep the essentials.
Our big minibuses are often attached with neat and clean washroom, so you don't have worry about the toddlers and kids much. All the minibus seats are well-fitted with high-quality leather seat-belts and plenty space for the leg room. Additionally, the inside of the minibuses will be a climate controlled so that you can adjust the weather, you will stay warm in winters and cool in summers.

A convenient way to plan vacations:
The London Minibus Hire services are generous. You can't get over by our luxury treatment and services. We do something that are beyond your expectations.
If you want to talk to our team, then you may call us on 0203-4757-567 or can request a quote. We offer minibuses for all small to big parties. Our luxury fleet of modern and comfortable minibuses add charm to your journey.