Life Hacks -Travelling With a Baby on a Coach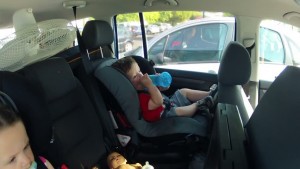 Those were one of the lovely days when travelling was manageable and fun. You only have to carry a backpack, water bottle, iPod- to listen to favorite tracks, and of course, credit cards. They were some of the finest days of your life. Also, travelling brings bundles of joy, and teach us how to manage the things. But, as the time changes, so as the things. This time, you are not alone to travel; you have the responsibility of a cutie baby- then travelling becomes a logistic challenge with dozens of bags and hundreds of things to forget.
Travelling with kids is always a challenging task, but there are several ways to avoid it and enjoy the ride with all the comfort. A minibus is the perfect vehicle for family outings and here's we tell you how to prepare the best.
Pre-Schoolers:
If you are travelling with an infant on a plane, then you can imagine how sweaty it could be. You have to run here and there to catch those rolling toys – which sometimes got stuck under seats. It becomes desperate to control a wriggly preschooler to sit on the seat till take off. Fortunately, our minibuses are equipped with the powerful air-conditioning, plus you don't have to stop your kid while playing-as there is not landing or take off. Minibuses would make your ride safe and comfortable.
Keep all the new range of toys to give them the feel of 'new'. We recommend you to bring puzzle games and mechanical toys that keep their little hands and brains busy.
Also, you could bring your little ones at their nap time- the ideal time. Keep a zippered pillow and a blanket to cover them. More often, you may ask them to consider their booking themselves for comfort as they are old enough to site alone.
Tiny Tots:
It's easy to accommodate young babies in all vehicles, by strapping in their regular car seats. But before confirming any minibus, consult them about the seating capabilities. As Minibus Hire London equipped with young kids seats. So, you don't have to carry baby car seat everywhere during the journey.
In London minibus hire, you can feed your baby while the bus is in motion. Simply, open the strap from their comfort seat, hold them as you normally do. Once you have finished, strap them back and enjoy the ride. Keep plenty of wipes and disposable bibs. We provide you with water bottles and all the necessary items you require for the young ones.
For further information, you may call Minibus Hire London on 02034757567.