Why Hire a Minibus for the Wedding is a Good Idea?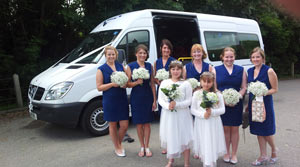 Marriage requires tons of work and proper planning to accomplishing things perfectly. Usually, people start the wedding preparation month or weeks ago, you plan the catering, wedding theme and dress to a tee, but the guests are usually a law unto themselves.
Weddings have to accommodate guests of all ages from the young ones to grandparents. Dropping guests from the hotel to the wedding venue can be a tough challenge, especially when you throw some unfamiliar roads into the mix, it could be a complete disaster.
Therefore, we recommend all beautiful bride and groom to hire a prestigious minibus for the wedding party.
Why Hire a Minibus for the wedding?
When planning the wedding day, it is essential for the bride and groom that all the guests arrive at wedding venue on time. Everything will run smoothly and the wedding night must full of enjoyment. A night that ensures a healthy supply of Champagne and entertainment. But what happen if the guests won't be able to find the wedding venue, all it add stress to the proceedings.
Therefore, hiring minibuses can be an ideal choice. First it is affordable, and secondly, it makes a huge difference between the smooth schedule and severe delays.
The best part with minibuses that you don't have to guide the chauffeurs about the route, traffic and parking. The minibuses are driven by well-trained drivers who always choose the quickest route to reach the wedding venue. Then there would be no chance of nana and granddad getting lost in the midway, and you don't need to guide directions to your uncle and aunt or to waste time over the phone.
Choose minibus as per your needs:

London Minibus Hire offers a prestigious and decadent range of minibuses. We provide a comfortable fleet of minibus from the 8 Seater minibus to 32 Seater minibus. Our minibuses offer reclining seats to LED, restrooms and climate control.
All the minibuses of us are modern and give your wedding a charm. We also decorate minibuses with flowers, silk ribbons and streamers as per the bride and groom needs.
When you hire a minibus from us, you get to experience the new way of journey, with the polite and professional chauffeurs. All the London Minibus Hire chauffeurs are CRB checked, and carrying Passenger Vehicle License, so you don't have to worry about any hassle and discomfort.
Affordable wedding transport is just a call away:
Hiring a minibus for the wedding should not break your bank. Although, the wedding party becomes more interesting when all your guest travels together to the marriage venue.
If you want to hire a luxurious fleet of a minibus for your wedding day, then give us a call on 0203 4757 567 or request a quote. We would love to add glamour to your wedding party.