Hire a minibus for the School Prom in London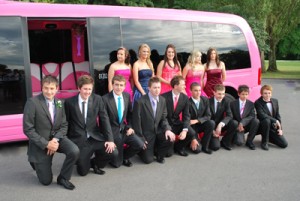 Prom is a dance party which every individual gets at the end of the high school. It is full of excitement and creativity. Every boy and girl want to look best on their prom night. They wore their beautiful dresses and wish to win the title of 'Prom King' or 'Prom Night'.
Most of the couple arrives in luxurious and prestigious royal cars. But if you are a group of friends who wants to reach together in school prom then instead of choosing beautiful limousine, you should prefer minibus. As they are safe, comfortable, big and allows you to take as many as pictures. Driven by trained professional drivers who would add charm to your journey by providing all the amenities that you desire. Hiring a minibus for your school prom is the best thing you can do because you deserve the excellent. You should not at all feel messy or problematic while travelling to your prom. You should feel safe, and you should have a happy and careful atmosphere to go to your party. Not only this, you should be comfortable while travelling to your prom. It is very easy to catch a minibus. The minibus has an advantage that it does not allow other people to sit without your permission. Even without a prior booking, minibuses never give you the trouble of not having a place, to settle down.
Minibuses are available at affordable prices. They are comfortable for travelling to any nearby places, as well as they are available all twenty-four hours seven days. They are not damaged; they are tidy. Minibuses have licensed and trained drivers. They do not allow any miss – happenings in the bus. People are secure and safe in the bus. Conductor always keeps an eye on every individual and takes care that every passenger gets the proper place to sit down, and no one feels uncomfortable. Either the journey is an hour, or it may take a long time the minibus always travels with the same safety measures. The driver never takes any journey for granted. Drive take every passenger as his responsibility.
It's a tradition of organising school Prom every year in the month of May and June. At that time the demand for minibus increase. Most of the friends book their vehicles prior one month. Hence, we also advise you to book your minibus with us and avoid all those last moment disappointments. You may call London Minibus Hire at 0203 4757 567 to enquire about the packages and safety measures.